Halló, szépfiú! (A Világ Ifjúsága cikke valamikor 1970-ből)
---
Halló, szépfiú!
A Világ Ifjúsága cikke valamikor 1970-ből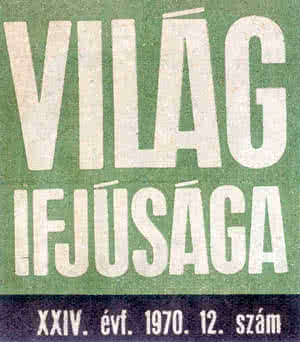 Az Acélizom Klub
Nyáron múlt két éve, hogy megrendezték a Jégszínházban az Acélizom Klub első országos versenyét. A versengés színtere a porond közepére állított fekpad volt, amelyhez látványos izomzatú fiúk sorban odajárulva, tekintélyes súlyokat nyomkodtak a fejük felé. Fekvő testhelyzetben. A versenyt különben egy, a nagymenőkhöz képest nevetségesen vézna fiatalember nyerte akiről később kiderült, hogy igazolt versenyzője valamelyik alsóbb osztályú súlyemelő csapatnak. A legszebbek, ahogy mondani szokás, labdába sem rúgtak, sőt, a verseny főszervezője - egy páratlanul remek felépítésű negyedéves egyetemista - el sem indult a vetélkedőn. Ő csak akkor jelent meg a porondon, amikor a szorgos segéderők elszállították a fekpadot és kezdetét vette a nagy szám, a kar-, mell-, has-, és hátizmok bemutatása.
Ez úgy történt, hogy a soros versenyző előre meghatározott attraktív pózokat vett föl és könnyed mosoly kíséretében a közönség elé tárta nagyszerű izomkötegeit. Egy-egy ilyen beállás-sorozat, ha jól emlékszem, két percig tartott. Az győzött aki a legszebben tudta mozgatni a bicepszeit. A felkészülés pedig körülbelül fél-háromnegyed órát vett igénybe a szomszédos edzőteremben, ahol a fiúk apró, 5-10kg-os súlyzókkal, különféle kenőcsökkel, és egyéb alkalmatossággal "pumpálták" fel véredényeiket és izomrostjaikat. Mert azt még egy csenevész laikus is tudja, hogy az ilyen bemutatókon látható 55cm kerületű felkar fél órával később már csak 45, vagy jobb esetben 50 centiméter.
---
A Magyar Súlyemelő Szövetség egyik szakvezetője is végignézte az acélizmú legények versengését. Megkérdeztem tőle, hogyan hasznosítaná a magyar súlyemelő sport az itt feltűnt tehetségeket.
- Jól mutatnának a nézőtéren - mondta, és különös mosollyal nézett maga elé.
Bár az Acélizom Klub - tudomásom szerint - azóta nem rendezett ilyen rangos bemutatót, a testépítés (body-building) hívei változatlan hévvel döngetik súlyzóikkal a tornatermek padlózatát és amikor beköszönt a kora nyár, az ott láthatók valamennyien a stégeken, az úszómedencék szélén, amint körbehordozzák szédületes deltáikat. Belépés díjtalan.
Mr. Weider öröme
Képzeljünk el egy tizenhat éves fiatalembert, aki ügyetlennek, esetlennek hiszi magát, nincs önbizalma, s félénk is. Példaképei épp ezért többnyire széles vállú, magabiztos fickók, akik a filmekben roppant ökölcsapásokkal tisztítják meg a terepet maguk körül, ámbár mostanában komolyan előretör a karate is. Tévénézés közben persze a legritkább esetben fejlődik az ember izomzata. Heti három edzés egy jól felszerelt tornateremben, és bőséges fehérjedús táplálkozás viszont már segíthet valamit.
Erre a kézenfekvő felismerésre alapozta vállalkozását Mr. Weider, a merkantil szellemű tányérmosogató. Az első erőfejlesztő termet követte a többi , s mikor a tornatermei már behálózták a fél világot, eképpen szólt a testépítés híveihez: "Szeretnélek mindannyiótokat kézszorítással üdvözölni a Testépítés Világában!" (World of the Body-building) Mr. Weidernek jó oka volt rá, hogy ilyen meghitt barátsággal viseltessen az erőfejlesztő termek látogatóival szemben. A hajdani tányérmosogató ugyanis nekik köszönheti millióit. Ma már több mint hatvanféle Weider-cikk, illetve készítmény áll a szép testalkatra vágyakozó férfiak szolgálatában. Könyvek épp úgy találhatók köztük, mint súlyzótárcsák, speciális erőfejlesztő gépek, és protein készítmények.
Az edzés persze nem könnyű, de egy idő után meg lehet szokni, csakúgy mint az öltözőkben, és tornatermekben terjengő izzadságszagot. Az edzés eredményék rendszeres mérések mutatják ifjú barátunknak, aki rövid 3 hónap alatt mellbőségét tíz, felkarjának kerületét pedig 5 centiméterrel is növelheti. Ez már szemmel látható gyarapodás. Ha azonben elköveti azt a könnyelműséget, hogy abbahagyja az edzéseket, hirtelen gyorsasággal eltűnnek a könnyen szerzett izmok. Az edzést tehát folytatni kell. A gyarapodás már korántsem olyan rohamos, mint az első hónapokban de fiatal barátunkat ez cseppet sem zavarja. Súlyzózás közben ugyanis a tükörbe pillant - a tükör egyetlen igazi Weider-féle bodybuilding teremből sem hiányozhat! - és csendes örömmel nyugtázza: bicepszei remekül mutatnak.
El kell ismerni, hogy Mr. Weider nem beszél a levegőbe, mikor a "Testépítés Világa" kifejezést használja. Ez a saját szakirodalommal, saját sztárokkal, s nem utolsósorban saját világnézettel rendelkező "sportág" (még idézőjel közé téve is nehezemre esik sportágnak nevezni) valóban külön kis világnak tekinthető. A bodybuilding- szakirodalomból megtudhatjuk például, hogy az erőfejlesztéssel rendszeresen foglalkozók nem csk lelki, de társadalmi, sőt üzleti vonatkozásban is talpraesettebbek, magabiztosabbak a testépítést elhanyagolóknál.
Mr. Weider mindenesetre…
Jó pénzért bárki szép lehet
Nem tudok róla, hogy nálunk valaki is számon tartaná, hányan űzik a testépítésnek ezt a módszerét. Az MTS nem foglalkozik velük, nem tekinti sportágnak a bodybuildinget, így erről talán csak a fürdőmesterek tudnának adatokkal szolgálni. És bár a Weider-féle szakirodalom - néhány terméke hozzánk is eljutott - szebbnél szebb érvekkel hozakodik elő, mind külföldön, mind itthon sok támadás éri a testépítés deltás apostolait. Mindenekelőtt azt a vádat hozták fel ellenük, hogy az ún. izomemberek véletlenül se szerepelnek a világ legjobb nehézatlétái között. A vád komoly, sőt - igaz.
No, de legyünk méltányosak és ismerjük el, nem is kívánkoznak közéjük. Ők a mellbőséget mérik minden edzés után, a nehézatléták pedig a felemelt tonnákat számolják, s a távolságot, hogy meddig repült a súly, vagy a kalapács. A nehézatléta meghatározott célért viaskodik a rettentő súlyokkal, az izomembernek nincs célja, csak bicepsze van, vagy ha mégis volna, úgy az, hogy szép legyen. Ennek érdekében akár napi két órát is eltölt az edzőtermekben, lendületesen emelgetve a 30-40kg-os súlyokat. Herkules akar lenni, Herkules ereje nélkül. A Weider-féle terápia ugyanis csak a szépséget szolgálja.
Aki felkeres egy ilyen izomműhelyt, nem az egészséges sportolási lehetőségekért, hanem a szépségért teszi. Bizonyításul itt csak annyit, hogy a lovaglóizmok fejlesztésére egyáltalán nem fordítanak gondot, holott azok hajlamosok leginkább az erősödésre.
Az olvasó bizonyára észrevette, hogy e sorok írója nem tartozik a body-building megrögzött hívei közé. Nem azért mintha ellenzője lennék a testkultúrának, á, dehogy. Még a testi szépségre való törekvést is megértem és helyeslem. Olyan tulajdonság ez, amely alighanem egyidős az emberiséggel. Egykorú források szerint már a görögök, sőt őket megelőzően az egyiptomiak is tettek egyet-mást a testedzés, a magas fokú testkultúra érdekében. Így hát bizonyára túlértékelnénk Mr. Weidert, ha egyedül az ő ötleteinek, üzleti fogásainak tulajdonítanánk a testkultusz ilyen mértékű felvirágzását. Ő nem tett mást, mint fölkeltette a lélek mélyén meghúzódó hiúságot, majd kijelentette, hogy jó pénzért bárki szép lehet. Aki nem hiszi, nézze meg ezeket a képeket. Amikor az Acélizom Klub első és mindeddig egyetlen országos vetélkedőjét megrendezték Budapesten, ott volt a nézőtéren a népszerű olimpiai bajnok birkózónk, az időközben tragikus körülmények között elhunyt Kozma István is. Derűsen szemlélte az olajtól csöpögő pompás bicepszeket, majd jól ismert harsányságával megjegyezte:
- Szép lányok vagytok, fiúk!
Amivel azt hiszem, arra célzott, hogy a gondosan "felpumpált" izomkötegek öncélú mutogatása nem okvetlenül velejárója a férfiasságnak. Pedig mi még nem is panaszkodhatunk, hiszen nálunk, szerencsére, nincsenek férfiszépségversenyek.
(cs.n.)
Már ekkor is megvoltak a kor Garai Szakács Lászlói, akik névtelenül képesek voltak kritizálni másokat, érdekes, hogy ideológiájukat elsöpörte a történelem, a testépítés pedig amellett, hogy igen népszerű tömegsport lett, ma már minden profi sportoló felkészülésének része, elég ránézni a futóatlétákra vagy a profi kosarasokra. A nehézatléták megmaradtak tömzsi, pocakos, tokás alakoknak, igaz a bicepszeik ma már nekik is 50 felettiek, és bizony, erejük nagy részét az edzőtermekben építik, nem az atlétikai pályán... - a szerk.megj.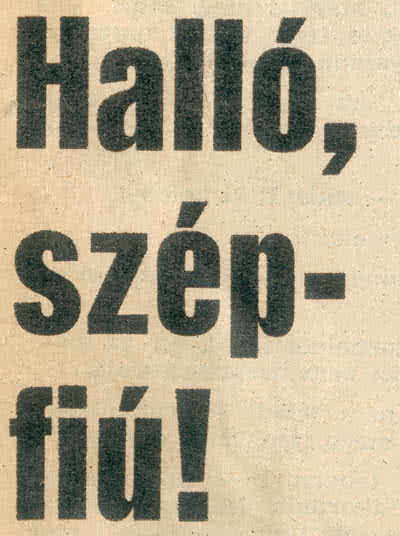 Tasnádi László gyűjteményéből

Tasnádi László gyűjteményéből
Tasnádi László gyűjteményéből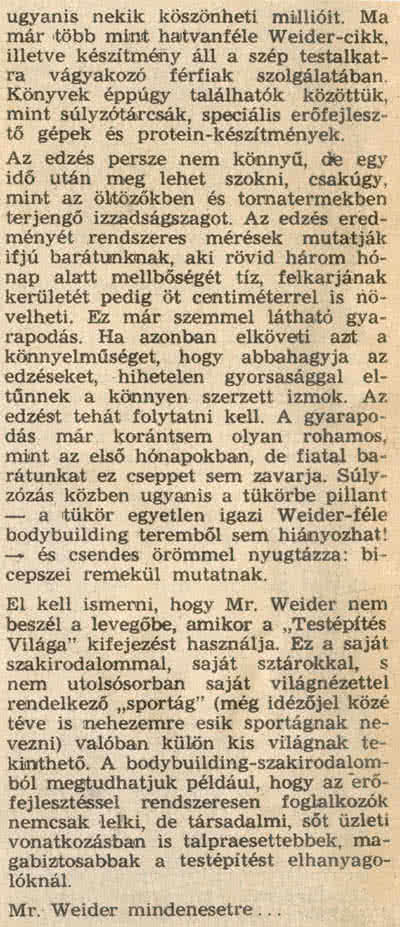 Tasnádi László gyűjteményéből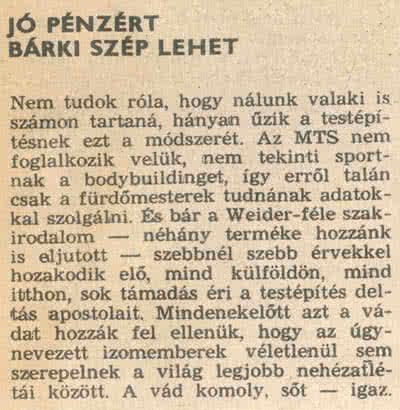 Tasnádi László gyűjteményéből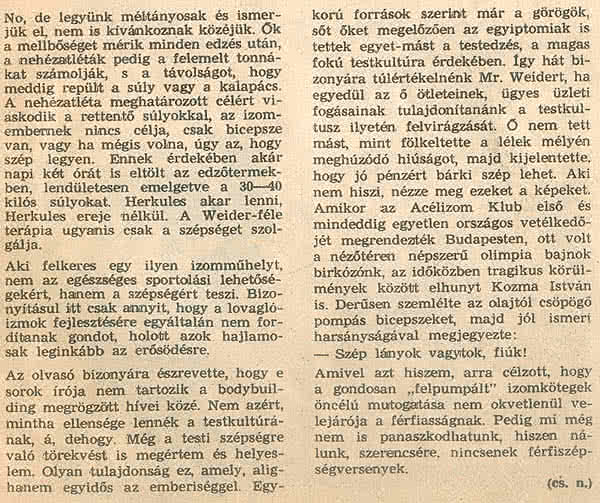 Tasnádi László gyűjteményéből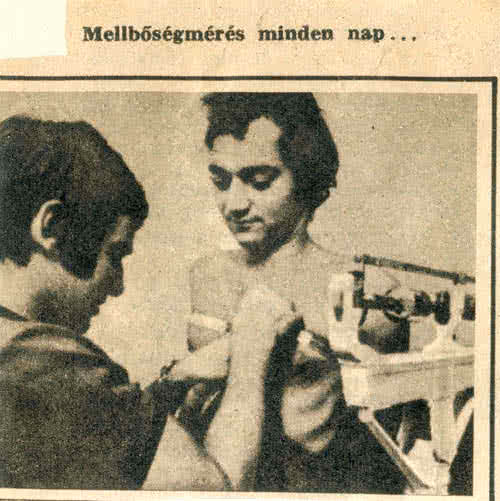 Tasnádi László gyűjteményéből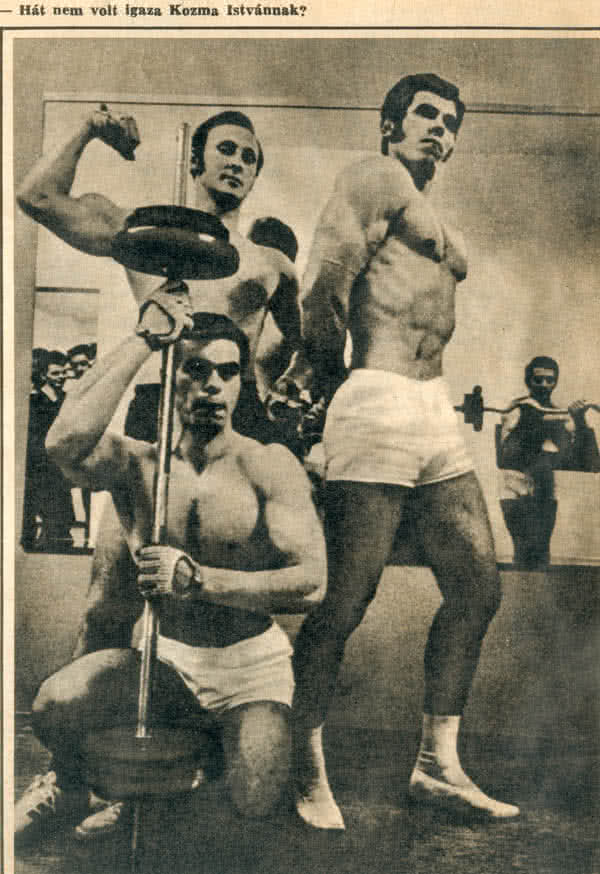 Tasnádi László gyűjteményéből
Bodybuilder Testépítő Webmagazin havi legolvasottabb cikkei
Kérdésed van a cikkel kapcsolatban? Tedd fel!
Ebben a rovatban kérdéseket csak regisztrált felhasználóink tehetnek fel!
Kérlek, jelentkezz be!