Tudja ki Reg Park? (Iszlai Zoltán írása, Élet és irodalom 1971. X. 9.)
---
---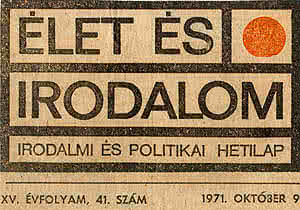 Előítéletek
A kiemelkedő külföldi izomfejlesztők nálunk főként a televízió Parabola rovatában jutnak nyilvánossághoz. Ők azon terjedelmes fiúk, akik a műsorvezető Varga József gunyoros gordonkaszavai mellett dagasztják buzgón izmaikat, a nézőtéren bámuló külföldi és a tévé előtt ámuló hazai közönség szemeláttára. Az utánnuk következő percekben rendszerint szebb, de mindig jelentősebb keblű hölgyeket mutat a Parabola. A közkedvelt kommentátor itt sem kevésbé maliciózus. Mégis a hangsúlya valahogy megbocsátóbb. Egyszóval, valljuk be férfiasan: a férfiszépséggel a férfiak nem szolidárisak. A nők? Nem nyilatkozhatom. A Parabolában nincs női hírmagyarázó.
Így hát marad az eléggé egy kaptafa vélemény. Amíg az izompacsirták bálványarccal mutogatják idomaikat, addig mi, említésre méltatlan muszklitulajdonosok sunyi elégtétellel röhögünk. De min?
Igaz, tíz éve a gombafejűeken hahotáztunk. Az utcáinkat ellepő Twist Olivér-ből szabadult, kakukkfészeknek álcázott fejű koszgárdistákon pedig most fogjuk a hasunkat. De még velük is könnyebben kibékülünk, mint a bicepsz bajnokaival. A testépítés divatját és sportágát nálunk amolyan LSD-t, marihuánát és urambocsá' totális promiszkuitást szimatoló előítélet sorozat terhel.
Ugyanakkor híre jár, hogy Pesten és vidéken, pincékben, fáskamrákban és mosókonyhában százak és ezrek emelgetik, görgetik maguk -eszkábálta súlyzóikat. Növelik karjuk, nyakuk, derekuk erejét, dolgoztatják órákig lábukat, csípőjüket, hasukat - épülnek - és szépülnek. Tömegőrület? Feltűnési viszketegség? Latens nudizmus? Szekta? Újmódi köldöknézés? Lássuk közelebbről.
Egy bajvívó
Bitter Istvánt, az erőgimnasztika, más néven kulturisztika, azaz a "Power- lifting" és a "Body Building" neves magyar képviselőjét edzés után keresem meg. Keserűen legyint. Megszokta a dilettáns kíváncsiskodókat. "Irkálnak, tudósítgatnak, fényképeznek. Többet árt mint használ."
A kékszemű, kölyökarcú, kefehajú, huszonöt éves, lelkes komolysággal beszélő tornatanár nem kelti exhibicionista vágóhídi bedolgozó benyomását.
Gömbfenekű súlyemelőt, vagy hízott nyakú dobóatlétát várt? - kezdi szelíden. Kicsit mulat az arányos termetét kicsinyellő titkolhatatlan csalódásomon. - Nálunk más a cél. Ők csak az eredményre mennek. Közben elhanyagolják saját magukat. A mi sportunkban a test nem eszköz. Hanem maga a cél. Az ember szépítése a feladat. Ezt ma már sokan nem képesek felfogni. Inkább gyanakodnak, röhögnek. Nem találja furcsának azt, hogy ha az ökölvívók csépelik egymást, mindenki komolyan figyel? Vagy amikor egy szerencsétlen maratoni futó negyvenkét kilométer után beájul a stadionba, az nem gyanús visszaélés a természettel? De ha egy kidolgozott testű férfi mutatja be erőgyakorlatait, munkája élő eredményét, testrészei harmonikus mozgását, és összhangját, azon fintorogni kell. Ez is sport? - mondják. Gondolja el: minden más sportág a maga érdekében deformálja a testet: at úszók kacsáznak, az ugrók felsőteste elsatnyul, a futballisták… mit mondjak?… És ezt a sajátos atlétizmust, melynek a test felépítésének a legegyetemesebb a hatása, ezt nem lehet elismerni?
-Hogyhogy?
-Mondtam. Van aki nem tartja jogosnak. Amíg a súlyemelő részről, a power-liftingről van szó még csak-csak. De mikor az izom bemutatására kerül sor, ami pontozásos gyakorlatsorozat, nohát, ez sokaknak nem tetszik. Pedig itt számol be a versenyző arról, mennyiben közelítette meg munkájával az esztétikai ideált.
- Tehát: ez a legesztétikusabb sport? - segítek lelkesedve.
- És a legbékésebb. - bólint határozattan. - Az erőfejlesztő nem verekszik. Ami pedig a strandokon feszítőket illeti, ezekhez semmi közünk.
- S ha valaki szakszerűen akarja csinálni, hova mehet?
-Éppen ez az. - rázza a fejét -, alig valahová. Pár szakkör van csak, például a Zrínyí Nyomdáé, a Külkereskedelmi Minisztériumé. Tornaterem? Küszködünk. Sportorvos? Ugyan… Pedig, ha valamit ilyen sokan saját maguktól csinálnak ami szép, sőt hasznos, akkor komolyabban kell törődni vele.
Meggyőzően érvel, igyekszem is tudtára adni. De nem túlságosan megerőltető sport ez? Az idősebbek mikor hagyhatják abba a gyakorlatot?
-Mondjuk ötvenéves korig lehet intenzíven csinálni. Aztán még tíz évig olyan a teste mint a húszévesé. Elég? - kérdezi rövid mosollyal. - Tudja ki Reg Park?
Mit mondjak? Nem tudtam.
-Az 1970-es Mr. Univerzum-választáson második lett. Negyvenkét éves elmúlt.
Utánaszámolok: még van öt évem… De nem mondom, mert iróniának vélné. És én éppen elkezdtem túllépni a Parabolából és Jane Mansfield-ből táplálkozó előítéleteimen. Mert hisz valóban: módszeres kondíciójavítás a görög ideál eléréséért? Miért ne? Ha jól emlékszem, voltak az emberiségnek ennél jóval közveszélyesebb elképzelései. Ha utánagondolok, vannak takargatnivalóbb szenvedélyek.
Tüzel, rokonszenvesen túloz. Lelkes. Nem fontoskodik, nem unott, egyszerűen hisz abban amit csinál. Kérdezem a sportág múltjáról is. Bitter a SPORTOLJ VELÜNK szakmai cikksorozatát írja. Jó helyre fordultam.
Az ősöktől máig
A spártai gimnasztikai intézetekben kell az őst keresni. -kezdi.
- Tehát már a régi görögök is… - vetem közbe - Igen- csodálkozik viccelődésemen, de elnézi.
- Persze mint az olimpiai játékokat, ezt is újra kellett kezdeni. A body-building újkori elindítója angol, Eugen Sandow. 1870 körül született, fejlődési rendellenességekkel, amit orvosi felügyelettel, gimnasztikával gyógyított meg. Ő is orvos lett. Kidolgozta az első rendszerét. Amerikába ment, stúdiókat nyitott, követői akadtak. Versenyezni Amerika és Kanada kezdett el egymással a 30-as években. Az első "Mister Amerika"- választás 1939-ben volt, a "Mister Univerzum" versenyek 1948-ban, a háború után kezdődtek Londonban. (Itt volt amatőr bajnok 1955-ben a magyar származású Mike Hargittay) Mint minden sportben, itt is erős a profizmus. Az amatőr szövetségek központja az IFBB (Magyarul: Nemzetközi Testépítő Szövetség) Elnöke: Ben Weider gazdag ember, de igazi sportrajongó. Hatvanhat állam testépítő szövetsége csatlakozott a központhoz. A szocialista országok közül Csehszlovákia, Jugoszlávia, és Lengyelország is tagok. A Szovjetunióban egyelőre köztársasági szövetségek vannak. Nálunk meg sok vita.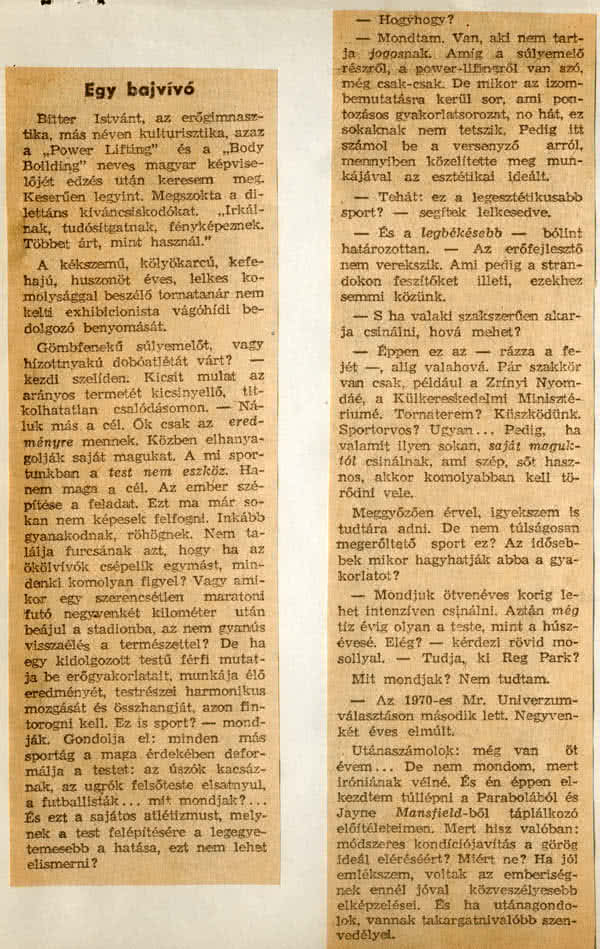 Tasnádi László gyűjteményéből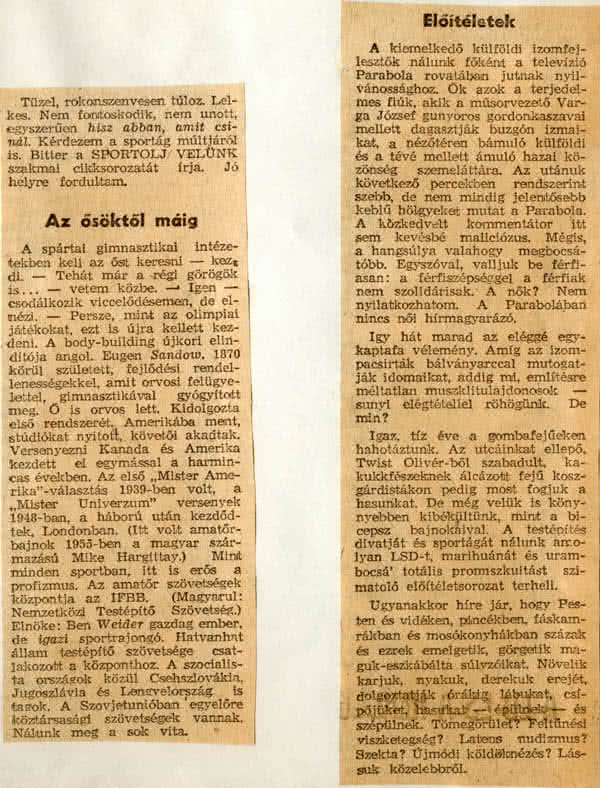 Tasnádi László gyűjteményéből
Kapcsolódó cikkek
Kérdésed van a cikkel kapcsolatban? Tedd fel!
Ebben a rovatban kérdéseket csak regisztrált felhasználóink tehetnek fel!
Kérlek, jelentkezz be!